Attention travel junkies, YOTEL recently announced that stays can now earn you JetBlue TrueBlue points. TrueBlue members of all levels can now earn TrueBlue points on stays at YOTEL locations around the world and will be eligible for exclusive discounted room rates and receive a complimentary amenity upon arrival. TrueBlue Mosaic® members will also enjoy complimentary room upgrades and late check-out.
JetBlue, a leading carrier in Boston, has been rapidly expanding by launching more direct international routes from Boston Logan International Airport. Select routes also offer their "Mint" experience. Mint is JetBlue's premium travel cabin and offers lie flat seats and lots of other goodies. JetBlue's Boston expansion now includes nonstop Mint routes to London, Salt Lake and Amsterdam! So why not book a staycation at YOTEL Boston, earn some points and use those points to check out the brand new YOTEL in Amsterdam?
Now is the perfect time to for Bostonians to visit Amsterdam. Fall is considered the shoulder season in Amsterdam, which means less crowds and favorable rates on accommodations and flights. In addition to the logistical perks of visiting this time of year, travelers can look forward to foliage lined canals, exciting autumnal events like the International Documentary Film Festival and the Amsterdam Art Fair and of course a warm Stroopwafel is perfect for a crisp fall afternoon.
Why you should book a stay at YOTEL Boston
Since 2017 YOTEL has been drawing crowds in Boston's Seaport thanks to its refreshing concept: smart-affordable luxury that doesn't compromise of comfort. Beyond the no-frills but still luxe accommodations at YOTEL Boston, enjoy the stunning views of the Boston skyline from Deck 12. Deck 12 is their year-round indoor/outdoor rooftop, serving a rotating series of internationally-inspired dishes and creative cocktails. And if you want something new and fresh check out Vela Seaport. Launched earlier this year, Vela is located on the ground floor of YOTEL Boston and promises to take guests on a culinary adventure with culturally diverse dishes crafted by Executive Chef Guara Pimenta.
Why you should book a stay at YOTEL Amsterdam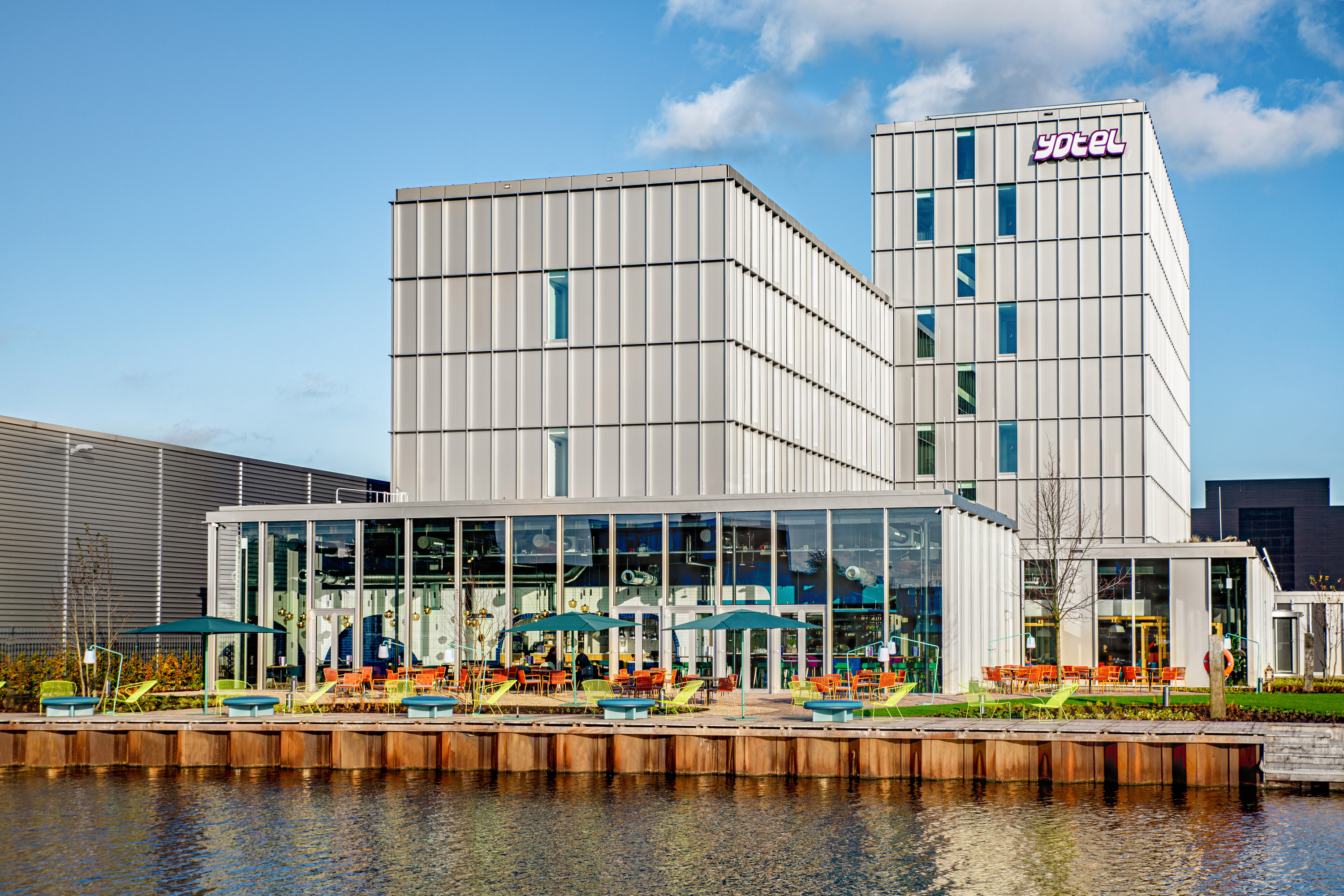 Situated in the vibrant Noord district, YOTEL Amsterdam offers an escape from the busy city center but is only a quick five minute (free) ferry ride away. With its sleek, modern design and waterfront views, YOTEL Amsterdam is a great place to call your home away from home. The Noord neighborhood is a thriving hub of art, culture, and innovation, home to landmarks like the Eye Film Museum, A'DAM Tower's famed rooftop swing and the Straat Museum, offering visitors a taste of Amsterdam's street art scene. YOTEL guests should head downstairs to Deck Amsterdam, YOTEL's canal-side terrace serving buffet breakfast, small bites and Dutch specialties. But of course you should also venture out and explore Noord staples like Corner Store or Pllek.
Looking to get away but stay in New England? Check out our guide to the best weekend getaways from Boston.